Description
TAHE 11'6″ BEACH SUP-YAK & KAYAK KIT
STABLE AND LIGHTWEIGHT 2-IN-1 INFLATABLE KAYAK & PADDLE BOARD PACKAGE FOR 1 OR 2 PERSON USE
IDEAL FOR:
1 or 2 people, plus child , capacity 200kg
Those who want both a Kayak and Paddle Board
Packs small for storage and transportation
Extremely stable
Weighs only 11.4kg and ultra-durable
TAHE 11'6″ BEACH SUP-YAK & KAYAK KIT is a stable, lightweight and easy to use 2-in-1 inflatable kayak and paddle board package for either 2-person or 1-person use with plenty of extra capacity for kids, pets and gear. The innovative design combines comfort and convenience for endless play time on the water with family and friends whether standing, seated or lounging around.
100% Kayak, 100% Paddle Board, 200% FUN!
STAND UP AND EXPLORE – Stable and sturdy underfoot thanks to high-pressure drop-stitch construction paired with a confidence-inspiring shape. With a capacity of 450lbs/200kg the entire family can join in the fun together and be walking on water in no time!
SIT DOWN AND CRUISE – Two included elevated seats, footrests and hybrid paddles are easy to set-up, converting from paddle board to kayak in seconds. They provide unmatched comfort and control for either 1-person or 2-person use by optimizing body position and alignment for kayaking. The innovative Daisy Chain Attachment System lets you customize seat and footrest position for riders of all shapes and sizes.
LOUNGE AROUND – Seat and footrest are easily removed to create a clutter free space to call home on the water while you play or relax. A soft get grippy deck pad runs the entire length of the board, perfect for pets, kids, yoga and naps.
KEY FEATURES & BENEFITS
LIGHTWEIGHT AND PORTABLE Weighs just 25lbs/11.4kg less than half of a similarly sized rigid kayak. Complete kit packs neatly in the included backpack and weighs just 32lbs/14.5kg
STABLE & STURDY SHAPE – IDEAL FOR RIDERS UP TO 450LBS/200KG 36" at the center with a wide, stable stern that smoothly transitions to a narrower bow for improved glide
DRY RIDE – 6" THICK MILITARY GRADE DROP-STITCH CONSTRUCTION Durable, rigid and buoyant
DAISY CHAIN ATTACHMENT SYSTEM (DCAS) For ultimate versatility and customization
COMPLETERLY CUSTOMIZABLE Customize location of kayak seat, footrest, deck bungee, and other accessories
REMOVE ALL ACCESSORIES Enjoy a plush, clutter-free deck area for paddle boarding, family fun, yoga and lounging
2X REINFORCEMENT RAIL STRINGERS Provide added stiffness and dampening in choppy conditions
THREE PERMANENTLY INSTALLED FINS Made of virtually indestructible polymers for worry free use and superior tracking
BOW AND STERN BUNGEE RIGGING FOR SECURING GEAR Daisy Chain Attachment System allows you to customize bungee location for your needs
BOW, CENTER AND STERN CARRY HANDLES For easy transport by one or 2 people and for ease of re-boarding after swimming
TWIN STRINGER STIFFENING TECH (TSST)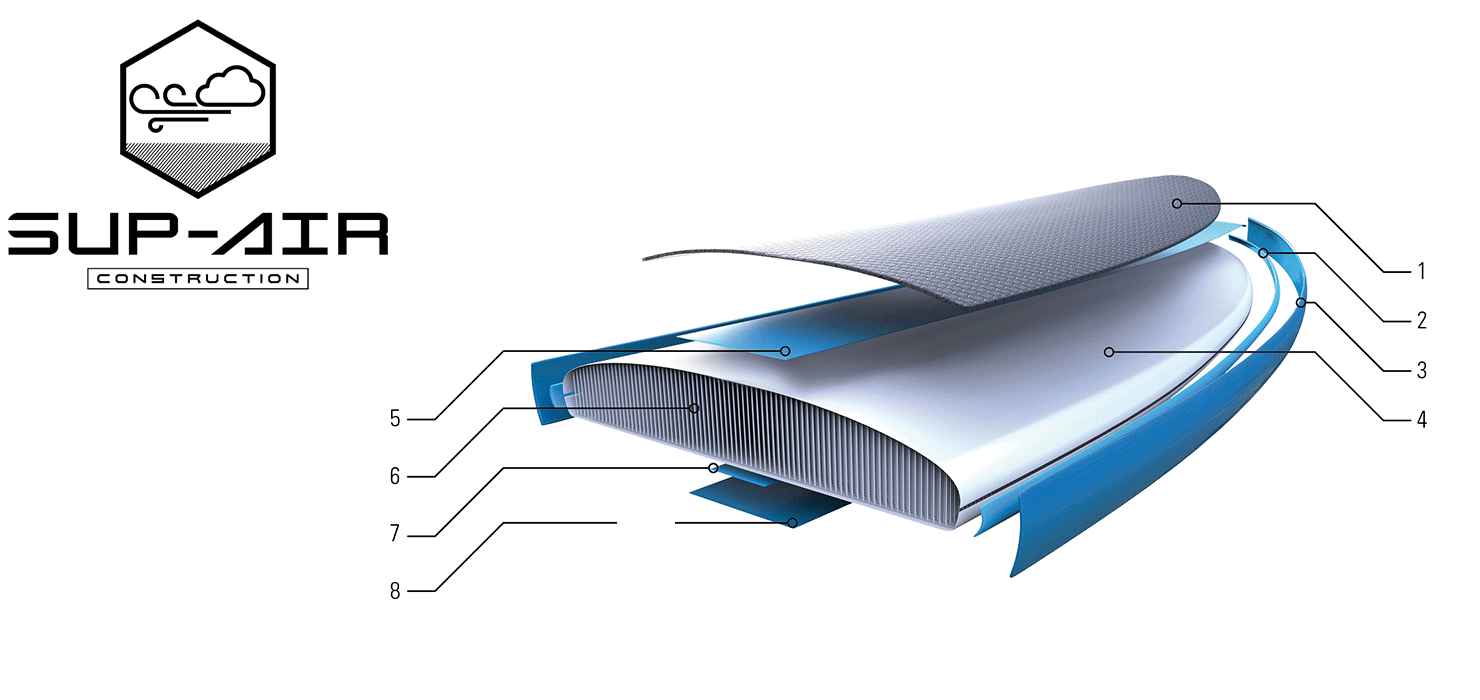 1- Deck Pad. / 2&3- Inner and outer PVC layer reinforcement along the rail.  4- Single layer PVC. / 5&8- PVC stringer patch. 6- High Density Dropstitch 4"75 or 6" thickness. / 7- Bottom stringer.
SUP-AIR TECHNOLOGY
Key Features
• Board thickness varied according to intended function. BREEZE Performer 10'6 with 4"3/4 thickness for thinner rails and better surfing, improved stability due to lower center of gravity. All other boards with 6" thickness for maximum stiffness.
• Ultra-light construction = easy to carry
• Reinforcements along the rails give the board very efficient
protection against abrasion.
• BREEZE Boards : Top & Bottom Stringer improves
stiffness vs. traditional inflatables.
• Twin Stiffening Stringers on SUP-YAK models.
TAHE 11'6″ BEACH SUP-YAK & KAYAK KIT